Explosive
Results with a website to envy
Dive into our massive portfolio of websites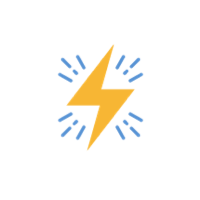 Lightning-fast Load Speed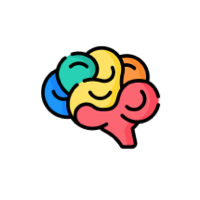 WHAT KIND OF WEBSITE DO YOU WANT TO BUILD?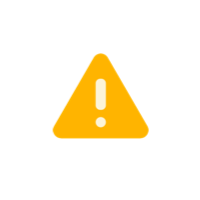 Mission-Critical Workloads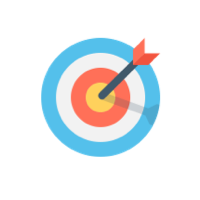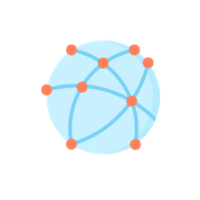 POLISHED EXPERIENCES THAT INSPIRE ACTION
Attention-grabbing headline, isn't it? Your website should be designed to not only draw your visitors in; it must drive them to take action. Actions like submitting a form, clicking the "call us" button and add-to-cart followed by a fast move to checkout. We know that great website design has an enormous impact on the bottom line. If yours isn't, maybe it's time to follow our website design process.
Market Research
Market Research
Market Research
Market Research
Market Research
Market Research
Your Business is unique, but chances are a successful company has come before you. We believe great website design must start with market research.
When we say market research for your website, we don't mean expensive, drawn-out, stuffy focus groups led by an impartial facilitator. We mean a focused analysis of competitors, local and international, that have highly-ranked websites for searches your business should be found in. We'll use this research to help you find your North Star. The competitor we all believe is doing almost everything right but just enough wrong that we can bring your business's differentiators to the fore.
Information Architecture
Information Architecture
Information Architecture
Information Architecture
Information Architecture
Information Architecture
Mapping out the structure of what your website visitors need to know about your business as an Information Architecture. Great website design makes it effortless for your visitors to find what they need.
Since the dawn of the Internet, when it was nothing more than the green glow of the command line, websites have always been a presentation of information. True to this day.
This fact means that website design must consider the visitors' perspective and define the pages and content for easy navigation and discovery.
We achieve this with an Information Architecture. A simple tree diagram of pages and content is presented early in the website design project, so we have a clear plan to start.
User Journey Maps
User Journey Maps
User Journey Maps
User Journey Maps
User Journey Maps
User Journey Maps
Who's the most critical person in the process of great website design? If you answered: "The Customer", we're proud of you. Their journey when visiting your website has got to be outstanding.
The customer is always right… is wrong. But, there's truth in the phrase: "great companies make decisions through the lens of their customer." Great website design considers your customer by creating a map of their journey as a visitor.
We want your visitors to become customers. We can't deliver that if we don't map a journey that takes them from discovery to delight with your business.
Design Prototypes
Design Prototypes
Design Prototypes
Design Prototypes
Design Prototypes
Design Prototypes

Ok, ok, we're approaching the stage of the project that's all about you. The business owner. The boss. Before we write any code, you'll be the first to see what your customers will experience with UX Wireframes and UI Design Prototypes.
Writing code is a paradox of awesome but time-consuming and costly. So we best make sure that every hour spent coding counts. To ensure we're all in-love with the experience your visitors (soon-to-be customers!) will have on your website, we present Wireframes and Prototypes.
The Wireframes are, we admit, underwhelming visually but are the first step in seeing the content from your Information Architecture come to life. Wireframes help us focus on the experience, not the distractingly beautiful interface. With the Wireframes approved, we can focus on how stunning we'll make your brand look.
The User Interface prototype is a clickable prototype that will give you a clear window into the future of your website once developed.
With both approved, we'll get to work making every hour spent writing code results in a product we all knew was right for your customers.
TECHNICALLY EXCELLENT AND FIT-FOR-PURPOSE.
There's a reason one-size-fits-all is only acceptable when you're buying a hat. Exceptional website development demands a technical plan that meets business objectives.
Do you want to launch right away with minimal fuss? Or do you need a mission-critical, highly performant, and custom implementation? These are two very different purposes, and their implementation approaches must follow suit.
From launching a minimum viable product to upgrading your web experience to support millions of transactions, we'll ensure you have the right tech stack to get the job done right.
Local Development
Local Development
Local Development
Local Development
Local Development
Local Development
Meet our website development team. We speak your language and understand your local context. We write custom code to build your high-tech inventions locally in your timezone.
From ReactJS and NodeJS to Vanilla Javascript, PHP, Laravel and more, our development team is made up of more than just technical jargon. What the project means for your business is at the core of our thinking.
Responsive Development
Responsive Development
Responsive Development
Responsive Development
Responsive Development
Responsive Development
We build for every device so that every one of your customers has a fantastic experience.​
Consumers today are spoilt for choice when it comes to their devices… and the websites with which they choose to engage. Great website design demands development for every device. Our sites adhere to this reality of doing business online, driving sales, bookings and more from Android, iOS, Mac, Windows and everything in between.
PROGRAMMING LANGUAGES
PROGRAMMING LANGUAGES
PROGRAMMING LANGUAGES
PROGRAMMING LANGUAGES
PROGRAMMING LANGUAGES
PROGRAMMING LANGUAGES
We build with all the big technologies, leaving no room for un-explorable big ideas.
There's more than one way to bake a cake. With website development, it's like all show-stopping deserts; there's always a secret formula to making it taste just right every time. We'll consider your website needs based on your consumer's needs and use the right big-tech tools to deliver that consistent experience.
What language do you want to build in?
ROCK SOLID FOR EVERY USER & DEVICE
With a combination of Unit Testing, External User Testing through Think-Aloud Usability Studies, and Alpha/Beta releases, your website will be tested thoroughly before launch. Just like your development plan will be tailored to your needs, so will your testing and launch plan.
Website Marketing Mindset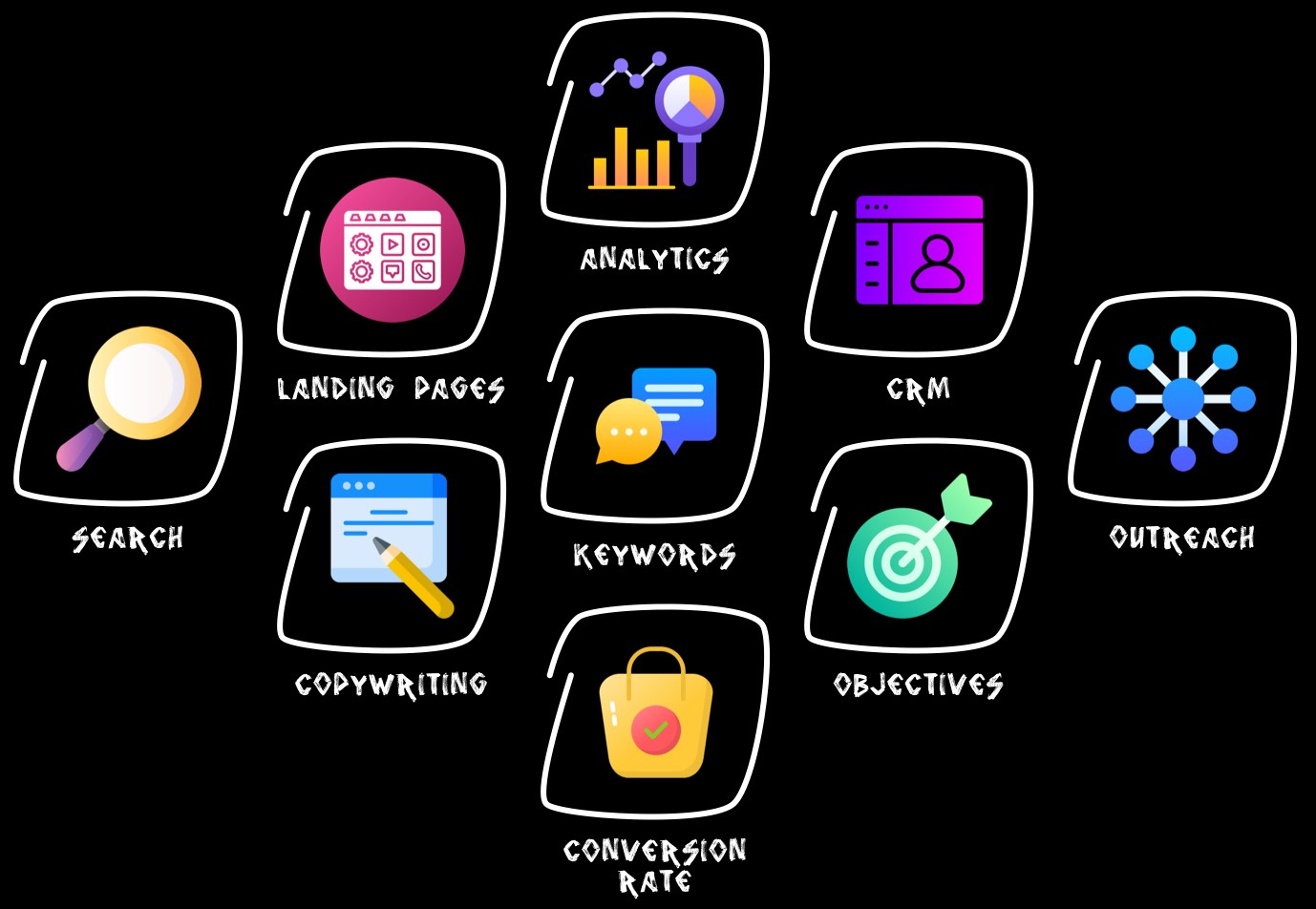 WE'LL HELP YOU SELL, NOT JUST IMPRESS WITH YOUR WEBSITE.
There's an emerging conventional wisdom materialising (that we might be pushing!): "Don't let a graphic designer build your website."
A great website design needs the particular bit of magic that comes from bringing graphic design aesthetics together with a marketing strategy.
Our website design and development approach has marketing strategy embedded into each step. It's the difference, the delta, the secret sauce that sets websites that "look great" apart from "perform great."
Kind Words From Our Ambitious Partners

Huyền Minh Phạm
October 7, 2022.
Great team 🙂 I had several opportunities to work with Anthony, James and their team. They are super meticulous and surely it's worth working with them.
Tim Bagheri
May 24, 2022.
Great support and flexible with our needs all the way through.
Daniel Dizon
April 5, 2022.
Hustle Digital is an amazing partner to work with. They are best-in-class across all their service offerings, including website design, development, branding, and more. Highly recommended.
Jason Roberts
March 16, 2022.
We have embarked on quite a large project with the Hustle team and having just completed part 1 of phase 1 i am absolutely convinced we have picked the right long term partner for our organisation. The team at Hustle are not just technically very skilled, they also have sound strategic vision, are consistent, conscientious and hard working and great people too. Anybody looking for a digital partner need not look any further than Hustle, we recommend them highly.
Leighlah Ashmore
March 7, 2022.
It is an absolute pleasure to be working with the Hustle team. At Block8 we find them to be professional, produce quality deliverables every time and they are very easy to do business with. We consider the Hustle team to be an extension of our own team and we are proud to call them Partners.
Wine Mate
October 8, 2021.
We are extremely grateful for the high quality work and professionalism provided by the Hustle Digital team. Not only were they super efficient, but they provided us with exactly what we wanted in a website / ecommerce platform! We give them a very high recommendation. Fantastic Team!!
Michael Galluzzo
August 13, 2021.
Loved dealing with the amazing team at Hustle. Super responsive and understanding of the vibe i was trying to capture with my website and then executed it perfectly. Thanks hustle!
Scott Milligan
July 9, 2021.
Thank you James & Hustle team for your creative guidance and highly professional approach to our website. You did a fantastic job and we appreciate your responsiveness throughout.
William Hall
June 25, 2021.
The team did a fantastic job building me a customised, interactive Website for my business. I was really impressed with the process and access to the team at all times. Would recommend.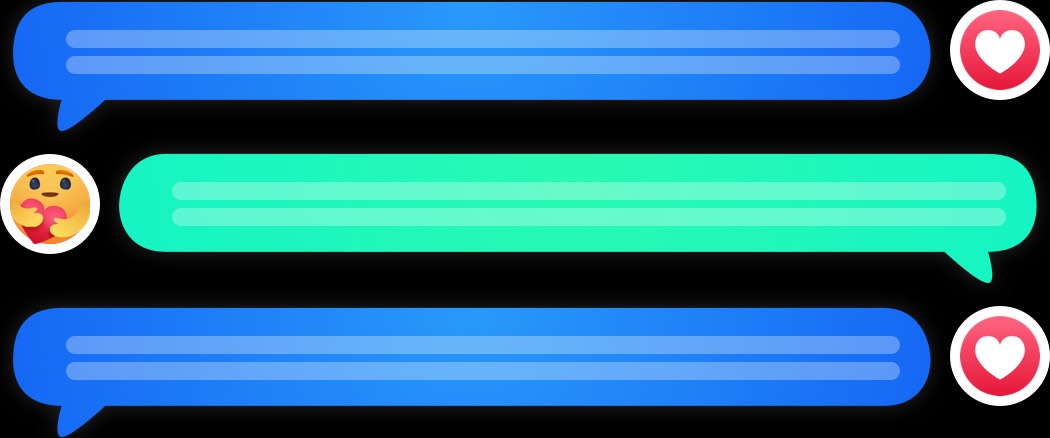 SPEAK THE LANGUAGE OF YOUR CUSTOMER
You might have noticed that we've been speaking your language. We use a particular vernacular to get you excited to work with us.
Why do so many websites have copy that feels like human beings do not run the company, and instead by corporate bureaucrats (or worse, SEO consultants who've forgotten people will need to read the page!)
It has always been a mystery to us.
We'll provide the copy or coach you towards copy that will make your audience fall in love with your brand because they'll get a sense of the people behind the company.
COMMUNICATE VISUALLY WITH AUTHENTIC PHOTO & VIDEO
Stop. Using. Stock. Ok – that's a bit harsh. But stock should be used purposefully, not in 100% of the placements on your site.
They say a picture is worth 1,000 words, but what happens when that stock image is used on millions of other websites? What does it say now?
We'll provide or coach you towards the photography and videography that will elevate the aesthetic and the authentic messaging your website design delivers.
Need authentic content for your website?
Website Speed & Performance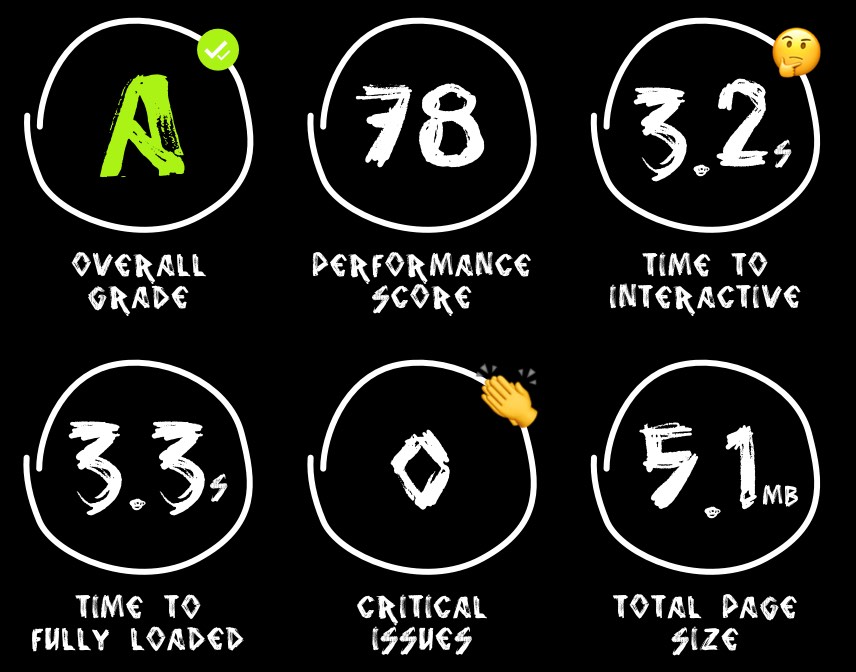 We optimise for the speed metrics that actually matter to your customer.
Wait. Hold on. It's almost there… Don't… bounce! And they're gone. Opportunity lost.
There's nothing more tragic for when a great website design is let down by a web architecture that can't deliver the content within seconds.
Our website development focuses on clean implementation, which sets the foundation for a hosting environment to deliver your site fully loaded before they bounce.
Test your website performance
Website Analytics & Tracking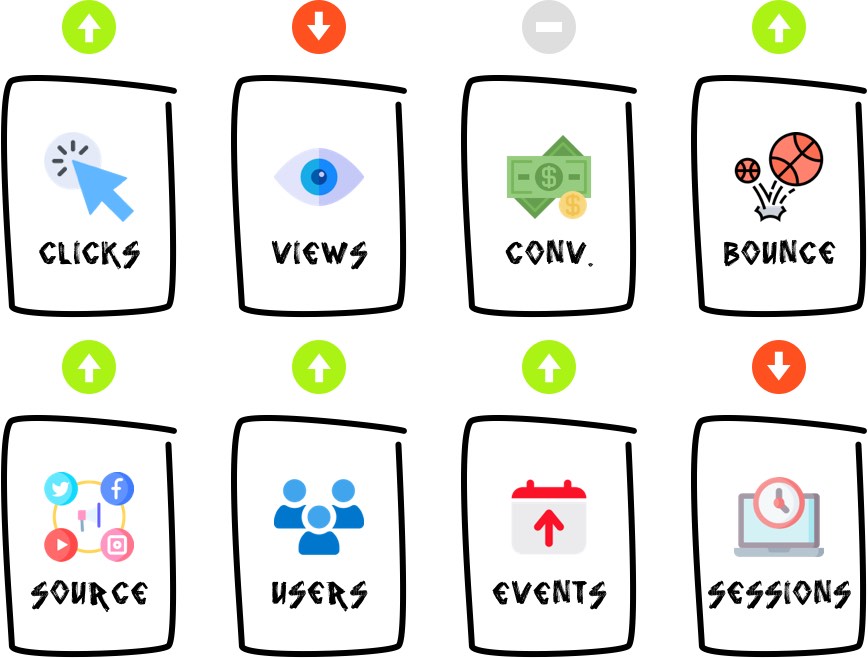 CAPTURE EVERY ACTION, GATHER INSIGHTS
When life gives your website traffic, you need to squeeze every last drop of juice. Going beyond just installing Google Analytics, your great website design demands analytics tools that can allow you to make informed decisions.
Decisions that can improve your rate of enquiry or sale by 1% might mean hundreds of thousands of more revenue.
We'll provide or coach you towards building an analytics dashboard that helps you spot opportunities for improved conversion.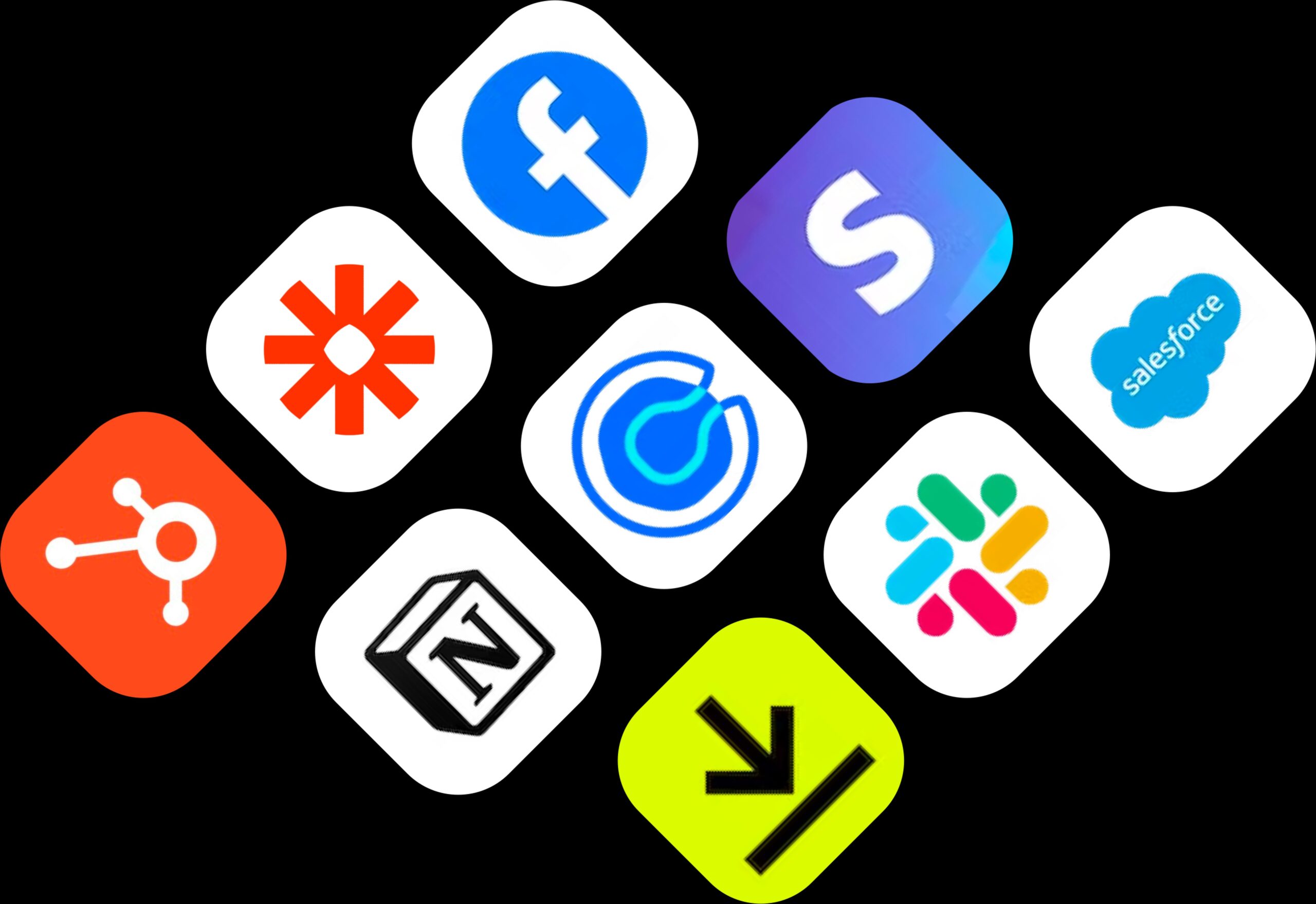 AN INTEGRAL PART OF YOUR INFORMATION ECOSYSTEM
Ever had an enquiry come in that you missed? Or a sale notification that was buried in your inbox?
Nothing more painful!
When designing a great website, the broader business context and the systems on its periphery must be considered.
Using Application Programming Interfaces (APIs) we'll connect your site through a combination of background tasks or webhooks to ensure the actions your customers take on the website are pushed to where they need to go.
MISSION CRITICAL WEBSITES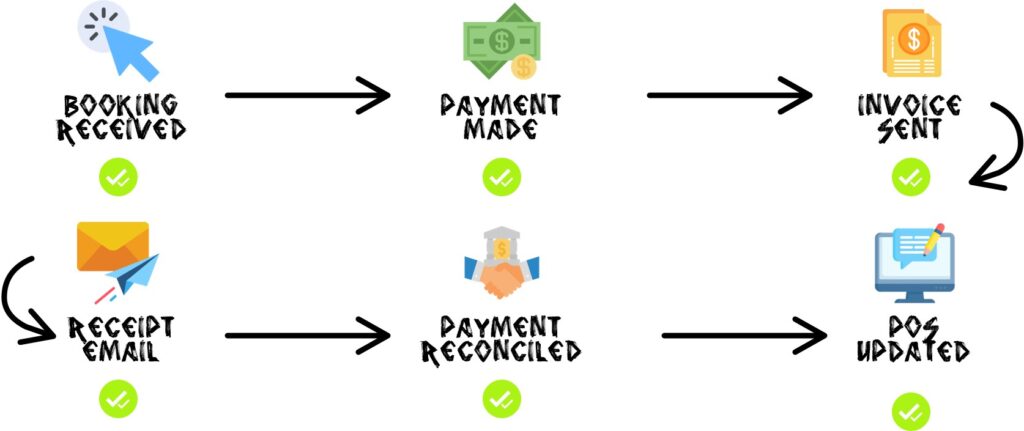 RELIABLE SOLUTIONS FOR YOUR MOST IMPORTANT TASKS
More often than not, websites are a part of your mission-critical workflow. This fact places much pressure on your site to support workloads that fire after events are triggered on-site.
Our design and development team has experience in driving mission-critical workflows through web applications that do way more than just provide a great user experience.
These workflows can extend to creating invoices, assigning jobs, planning routes, handling the availability of assets and more.
The web is a highly volatile place. One minute you could be trading as expected; the next, a glowing PR article drives 10X traffic without notice.
The modern web demands that your website is built on top of a scalable architecture.
We employ Amazon Web Services, Azure and Google Cloud Platform, and Australian Based Traditional Cloud services to provide the right set of scalable technologies for your website's workload.
Ready
To Unlock Explosive Results With a New Website?